Babes in the Wood 2e

Encounter the peculiar folks who reside within and help solve their problems while confronting your own relationships & fears. Catch literal lightning bugs for the North Witch's potions, bare witness to the royal cat wedding of Sir Poppy and the Princess, or simply tell tall tales with your friends as you traverse the strange eternal Wood. But be wary: dark forces and foes lie in the tangled depths of the forest and have their sights set on you...

Designed and published by Adam Vass

illustrated by Kim Nguyen

Edited by Tyler Crumrine

Poetry by Seb Pines

Calligraphy by Rachael Barlock

Accessible Version by Yubi

BitW is for 2-5 players and a gamemaster (with additional rules for gm-less play!). It is designed to be accommodating to both single session play (like a movie) or short term campaigns (like a TV series or serialized comic book). With just two six-sided dice and this book, fill your group with Big Kids, Lil Kids, Critters, Toys, and Woodschildren and be on your way, facing your fears and chasing your dreams through the mysterious Wood.
BitW is inspired by stuff like Over the Garden Wall, Wizard of Oz, Adventure Time, and more kid-friendly media that rings more surreal & eerie when viewed through adult eyes. This game is Powered By The Apocalypse.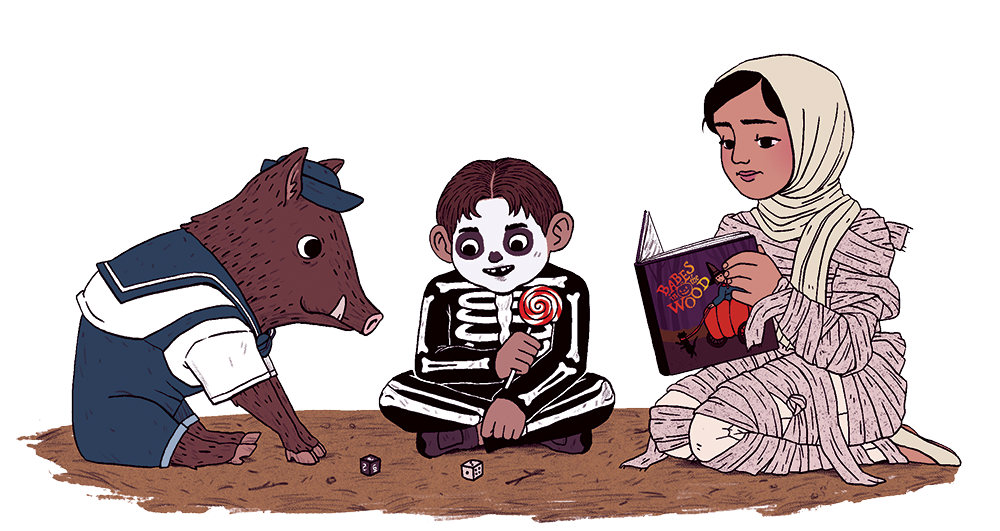 The game mechanics encourage creativity, exploration, friendship, jokes, and consolation:
Sessions are primarily made of visiting varied

Hollows

, locations in the Wood where curious people live their lives outside of time. In each Hollow, Kids will have opportunities to interact with the strange goings on in the forest, offering their help and creative problem solving skills to those in need. When playing for multiple sessions, you visit many Hollows and help all sorts of people, learning about yourself in the process.
Between Hollows, the group Wanders the Wood, and based on dice rolls and stats, either come face to face with the

FIEND

(the embodiment of fear that lurks in forest depths waiting to take advantage of weak willed wanderers) or are offered calm moments of respite during which they tell stories and confide in one another, strengthening their friendships.
The more afraid the Kids are, the more likely Fear and the Fiend appear in the story, but the more confident and hopeful, the more likely it is they'll have fun instead. The game involves a tug of war between these resources that players interact with to create scares, compassion, drama, and humor in equal parts.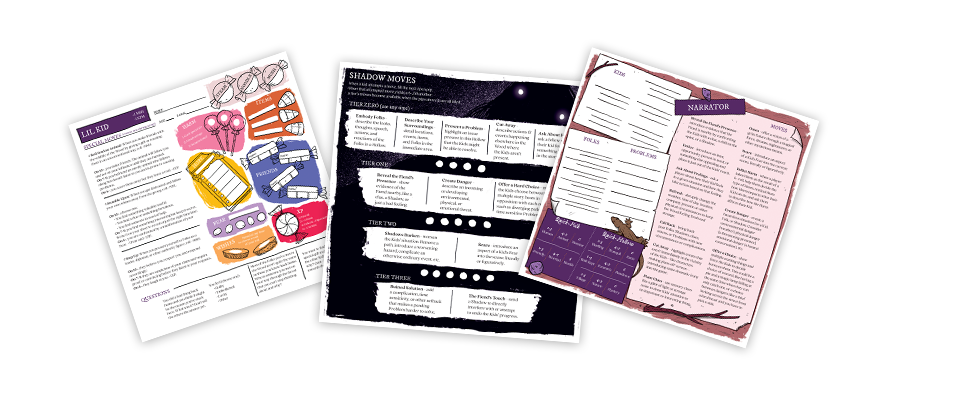 Licensing: Do you want to create your own content for BitW2e? Hollows, Shadows, Playbooks, or anything else? Well, have at it! Babes in the Wood 2nd Edition is published under a (CC BY 4.0) license. Basically, you can make whatever you want, charge whatever you want for it, as long as you credit the original work and state that your work is and independent publication not affiliated with World Champ Game Co.

Purchase
In order to download this game you must purchase it at or above the minimum price of $15 USD. You will get access to the following files:
Babes 2e Accessible Simplified.pdf
929 kB
Download demo
Comments
Log in with itch.io to leave a comment.
Signal boosting the lack of access to playbooks and game aids without paying for the whole game.
They're actually both available for free now! Look under the "Download demo" tab for the playbooks, along with the basic move aid :D
Hello! I purchased a physical copy of your book at my LGS, and it says that downloadable files for the moves lists and other resources could be found here for free. However, they're behind a $15 paywall. Is there any way we can get those resources without having to pay for the game again?
oops, thanks for pointing that out! I'll get that fixed this week
Awesome, thanks for the reply! I can't wait to play. :)
just fixed it, the playbooks and move lists are setup as "demos" so they can be downloaded freely without access to the rest of the stuff!


that said (since other people may see this in the future) if you buy the book somewhere and they don't have a program to distribute digital files, please email me at axv at worldchampgame.co and I'll give you a download key to access the digital version!

World Champ Game Co is RIGHT. Once again hitting us with an absolutely fantastic game, the second edition of one of my favorite indie RPGs, and a brilliant homage to one of the most charming shows out there. Babes 2e does it all and does it well, so check it out!